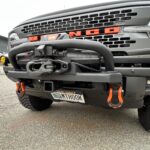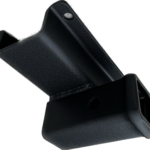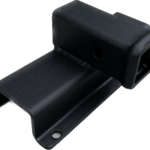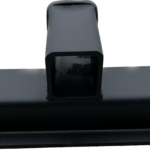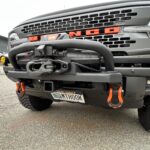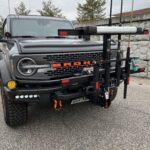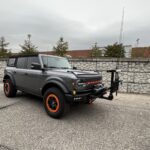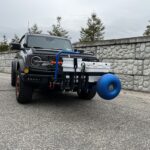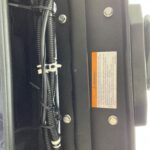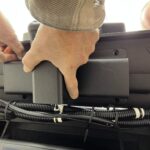 2021-2023 Ford Bronco Front Receiver Hitch (High Mount Winch Plate)
4 in stock (can be backordered)
Description
Our add-on Front Receiver Hitch mount can mount under the modular bumper  high winch mount plate.  It mounts to the same bolt pattern as the winch with the provided longer bolts.
Currently tested with the modular bumper and high winch mount from Ford with Warn 10,500 lb winch installed.  Should fit most high winch plates with full access to bottom.
Hole pattern is 4.5″x10″
Includes: 4 –  10mm x 1.5 x 40mm bolts and washers.
Steel Construction with powder coated finish.
Instructions:
Release pressure by disengaging winch and pull out about 1′ of rope to make sure winch does not move when bolts are loosened.
Remove 4 bolts holding winch and confirm they are 10mx1.5 bolts.  Add receive plate with flanged end facing away from the vehicle.  Attach provided bolts with washer in the same 4 holes.
Rated for up to 350lbs, but weight limit is determined by bumper and winch mount.
No instruction manual available at this time